INVITATION TO THE GENERAL ASSEMBLY AND CHRISTMAS PARTY 2008
Greetings! It is almost the end of the year and at the same time, we are now in the Christmas season. In this regard, ATTARS-Kuramae Kai Philippines is organizing its 3rd General Membership Meeting and Christmas Party. This year, we have reserved The Manila Yacht Club located at 2351 Roxas Boulevard, Manila, Philippines on December 13, 2008, 6 P.M. .
It is our pleasure to invite ATTARS members as well as their family and friends to join us in celebrating Christmas and have fun. This year, we shall also hold the election of five new board members. In order to underwrite the expenses of our affair, a registration fee of PhP 600 will be charged to all the participants. Attached is the tentative program of activities.
We hope to see all of you on December 13, 2008 as this will be an opportunity to meet and link with each other. We appreciate your sending us back the reply form below for our head count. Thank you.
Sincerely yours,
DR. SUSAN M. GALLARDO
MEMBERSHIP UPDATE
Download the membership form under Membership and send to our secretary Dr. Susan Gallardo (gallardos@dlsu.edu.ph) or attars_philippines@yahoo.com.ph
ATTARS 2009 Officers Elected - Diola is President
Last January 21, 2009, the ATTARS 2009 directors elected the executive board at the Tokyo Tech Office - DLSU, Manila. Elected president is Dr. Nathaniel "Bojie" Diola of UP Diliman - Dept. of Civil Engineering. Dr. Jonathan Dungca of DLSU-Manila, CE Dept. was elected as the Executive Vice President (EVP). The other elected officers are: Dr. Mel Baccay - Internal VP, Mr. Mineo Maruyama - External VP, Dr. Tonette Tanchuling - Secretary, Engr. Eden Mariquit - Treasurer and Dr. Alma Madrazo - PRO. The other directors are Henry Co, Nila Abella, Josefin de Alban and Marita Dimaano. Dr. Susan Gallardo, out-going president, facilitated the election. Dr. Gallardo will serve as an adviser of the board together with Prof. Niiyama, Dr. Oreta, Dr. Olano, Engr. Ronnie Gallardo and dr. Lydia Tansinsin.
The first meeting ot the ATTARS Directors is tentatively set on February 12, 2009 at UP Diliman.
ATTARS Community Outreach at Nagcarlan
The community outreach in Nagcarlan was held last Saturday, Nov. 8. There were almost 200 participants who actively listened to the Environmental Education. The resource speakers which inlcude Eden, Marita(also PRF President) and Evie (PICHE) shared their their time and expertise with the barangay officials (52 barangays), NGOs, Church representatives and the youth representatives. Go to activities to download photos.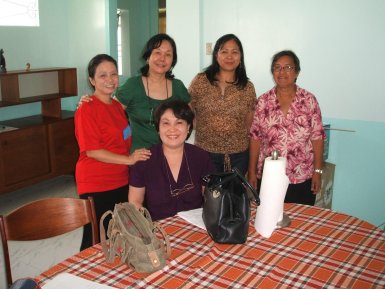 ATTARS 1st Seminar-Workshop on Climate Change and Alternative Energy Technologies- A Success!
The 1st ATTARS National Seminar - Workshop with the theme, "Bridging the Gap on Climate Change and Alternative Energy Technologies" was held on 19 Sept 2008 at the Trader's Hotel, Manila. Delivering the keynote address was USec. Mon Santos in behalf of Hon. Sec. Angelo Reyes (DOE).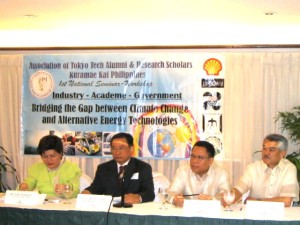 The plenary lectures that were presented by distinguished speakers were:
| | |
| --- | --- |
| NASA on Climate Change Observation & Implications | Dr. Josefino Comiso, NASA Senior Scientist |
| "National Priority Program on Climate Change" | Dr. Graciano Yumul, DOST Undersecretary |
| "Responding to the Challenges of Climate Change" | Dr. Alma Madrazo, Country Manager, Tetra Tech |
| "Advances on Concentrated Solar Power Cell Technologies".. | Prof. Yutaka Tamaura, Tokyo Tech |
Two parallel sessions were held- one on Biofuels and another on Solar Energy. Poster presentations were also held. About 80 particpants attended. The sponsors were DLSU, TokyoTech, Shell, Sun Power and PCIERD.
Dowload file about the seminar-workshop.
Gallardo elected President of ATTARS 2008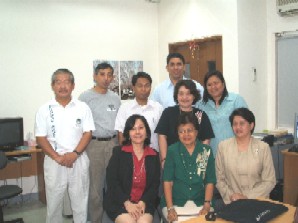 The ATTARS 2008 Board of Directors elected the officers of the Association of Tokyo Tech Alumni and Research Scholars last January 16, 2008 at the Tokyo Tech Office, DLSU-Manila. The following directors were elected officers of ATTARS 2008:
President : Susan Gallardo

Executive Vice President: Nathaniel "Bojie" Diola

Vice President (External) : Mineo Maruyama

Vice President (Internal): Maria Natalia "Marita" Dimaano

Secretary: Carmela "Melai" Centeno

Treasurer: Leonila Abella

PRO: Alma Madrazo

Directors: Lydia Tansinsin, Mel Baccay, Jonathan Dungca, Henry Co